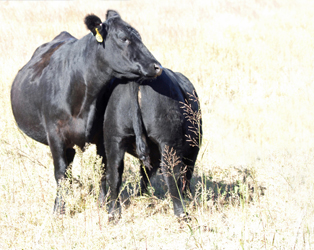 The Mike Sitz Angus Ranch bull program is unique to most of those in the industry by marketing exclusively top coming two-year-old virgin bulls that are raised under range conditions.
The bulls are developed in an open range environment with the goal of developing long-term soundness. We do not supplement their Sandhills summer pasture, so those bulls that perform on grass are more easily evaluated. Cows are harvesters of grass, and the real proof is the efficiency of their performance in a grass-based environment.
While they continue to range on a quarter section pasture the bulls are started on a high roughage ration in November prior to the sale in February.The bulls have been sorted to the top cut of bulls and fertility tested by a licensed veterinarian.

When you attend our sale, our bulls are more easily evaluated because there are no conformation faults hidden behind high camouflage fat. We all know when it comes to bull marketing – to put it simply – fat sells. We can avoid the negative effects of overfeeding in relation to the long-term health of the bull.
Since our bulls are grown in an open range environment, they are more apt to stay sound longer. Ask any of our repeat customers -- they will say the same: soundness and longevity are definite pluses in our program. Our returning customers are the backbone of our bull sale success and they have learned to appreciate how the bulls are presented.
One has to look long and hard in the industry today to find registered bulls managed in this practical, no nonsense sort of way. By drawing from the personal understanding of our herd, the buyers can be confident that we are able to help them find the bull best suited for their program.
HOME I HISTORY I SIRES I FEMALES I COW HERD I BULL SALE I PHOTO GALLERY
CATALOG I CARCASS DATA I CONTACT US
©2010 Copyright Mike Sitz Angus Ranch. All Rights Reserved.